Daily -
Promotional Pricing
LAZER TAG GENERAL PRICING: (games per person)
1 Lazer Tag Game – $9.00 each game
2 Lazer Tag Games – $16.00
3 Lazer Tag Games – $21.00
Children aged 5 & under: $6
ALL-YOU-CAN-PLAY LAZER TAG: 
$30 for 3 hours of unlimited plays (as room allows)
GROUP RATES LAZER TAG: (10 or more players)
1 Lazer Tag Game – $8.00 each game
2 Lazer Tag Games – $14.00
3 Lazer Tag Games – $19.00
***Lazer Legacy cannot accommodate private games during peak hours on Fridays, Saturdays, & Sundays.
***Age Limit: We recommend ages 4-6 play with parental supervision.  Ages 7 and above will be fine to play on their own.  We have had children as young as 2-3 play; however they may be scared of the arena's sights and sounds.
COINLESS ARCADE:
$1 = 4 credits
Arcade cards can be charged with any value. We recommend keeping track of your cards so that they can be recharged.
Bonus credits available on select amounts
ALL -YOU-CAN-PLAY ARCADE: (excludes prize games)
$16 for 1 hour
*Players may keep their arcade card to recharge with credits at a later time*

Give us a call at (909) 790-7011 for our Summer Special and combo deals!
*Promotional pricing subject to change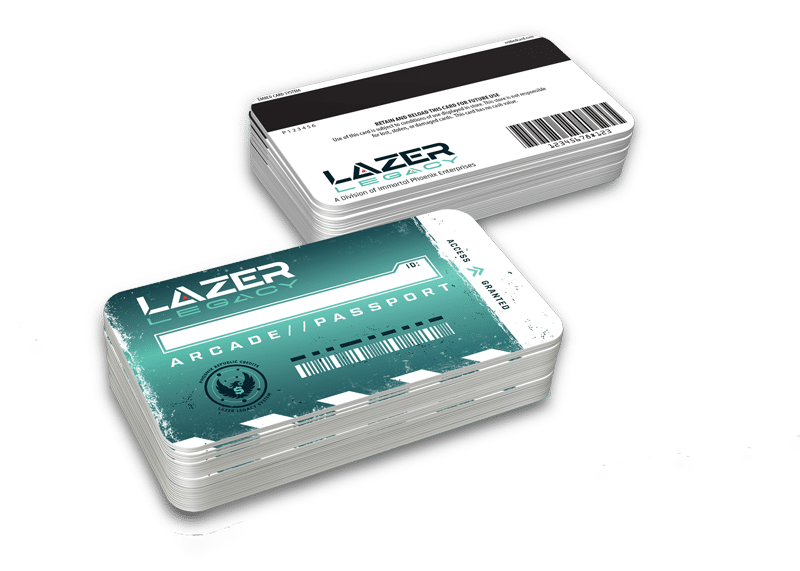 AVATAR MEMBERSHIP:
Choose your callsign (game name) and earn Legacy Points as you play. Spend points on upgrading and customizing weaponry for future games. Players can track their stats, rank, and avatar page via membership kiosk at Lazer Legacy.
$5 lifetime card – $2 replacement fee